StoreHippo allows you to add the Freshchat to your store. Freshchat is the customer messaging software provided by Freshworks. With Freshchat, you can deliver effortless, personalized customer service using a blend of bot and human assistance across familiar channels. To add Freshchat as the customer messaging app in your store, you need to create a Freshchat account, get the integration code, and add the code in the startup widgets section of your store's admin panel.
Creating Freshchat account
First of all, you need to create the Freshchat account to integrate it to your store. Go to the Freshchat and start the registration process.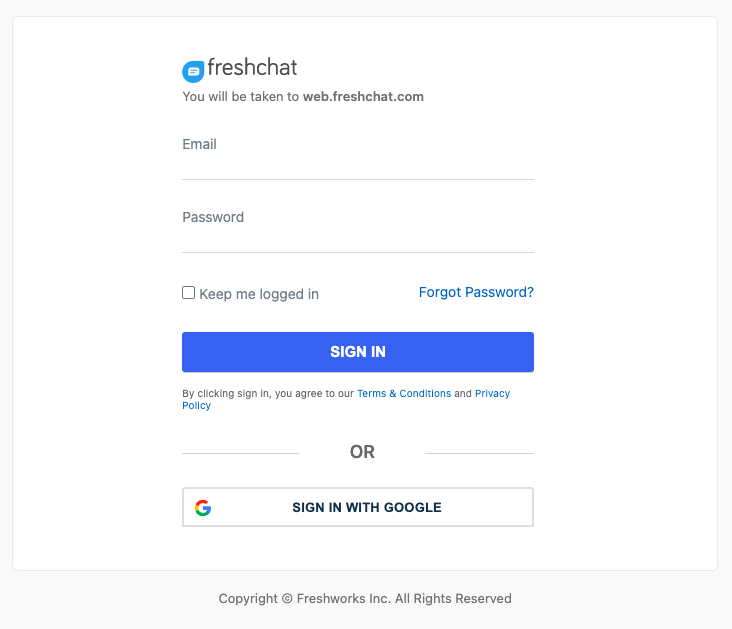 After creating your account, login to your Freshchat account and proceed to configure it.
Configuring Freshchat
Upload your brand logo, provide your store name, and pick your brand color. The same name will be displayed in the chat window.

Set up your profile now. Provide the name, title, and description.
You can also edit the appearanace settings later on.
Getting code for integration
You need to install the code on your store to for interacting with the visitors of your website. To copy the integration code, follow the steps given below:
Adding Freshchat code
Once you have got the code, follow the steps given below to add the code to your store:
Go to the Site > Startup Widgets section in the StoreHippo Admin Panel.
Click the Add New button. A new page will open with multiple fields.
In the

Name

field, provide the name of the startup widget.
Under the Template

section, paste the script code that you have copied.
In the

Append To field, select the Head option.
Select the Publish option to activate the widget.
Click the

Save

button to apply the changes.
Now, the Freshchat app will be added to your store. Your users can communicate with you through it.