Amazon Seller Channel allows you to connect your store with your Seller Account on Amazon Marketplace. Through this channel, you can import your orders, Search, and Import products from your Amazon Seller Account.
You can integrate Amazon marketplace with StoreHippo in a few easy steps. You just need to obtain account credentials from the Amazon panel and configure your Amazon Seller Channel on StoreHippo Admin Panel with those credentials.
Obtaining Credentials from Amazon
Click the Sign up for MWS button.
Log into your Amazon seller account.
In Amazon seller central, go to Settings in the right corner and click on User Permissions.


Click on Authorize a Developer.


Enter Developer Name as

StoreHippo

and developer ID as

3163-0081-0780.


Accept the terms and conditions and click Next. You will get the Seller Id, Marketplace Id, MWS Authorised Token that needs to be provided in StoreHippo.

Now, go back to User Permissions and click on Edit your developer profile.

Register your developer account.
You will find the AWS Access Key Id and Secret Key here.

Configuring Credentials in StoreHippo
When you have credentials from the Amazon, you are required to provide them in your StoreHippo Admin Panel to integrate the Amazon marketplace. To do so, follow thebelow-mentionedsteps:
Go to the

Channels

section in

StoreHippo Admin Panel

.

Select the Amazon Marketplace channel and click on the

Integrate

button to integrate it with StoreHippo.
Fill up all the details in the form.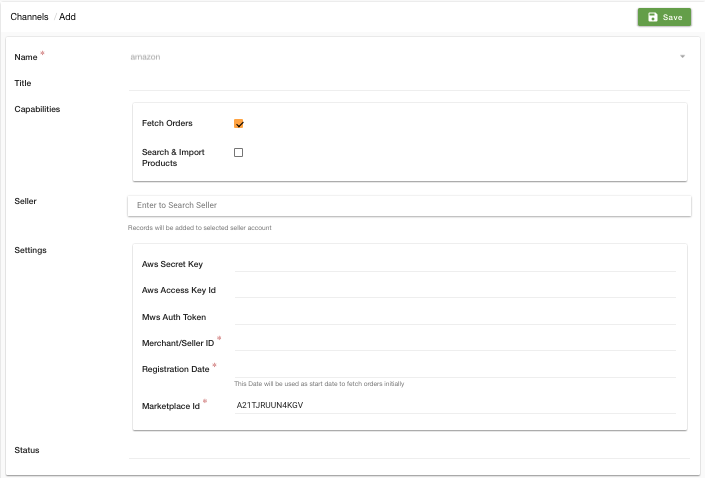 Name
Name of the channel to be integrated. This field is pre-populated.
Title
Provide the title of the channel in this field.
Capabilities
It contains the capabilities or functionalities provided by that particular channel. It may vary with channels. Available capabilities of Amazon marketplace are:
Fetch Orders: This option will allow to automatically fetch orders from that particular channel to the store on regular basis.
Search & Import Products: With this option, products can be searched using any keyword and will be directly added to the store.
Sellers
Choose the sellers from the drop-down.
Settings
It contains the required information about the Amazon marketplace.
Aws Secret Key:

Provided by Amazon

Aws Access Key Id:

Provided by Amazon

MWS Authorised Token: Provided by Amazon
Seller ID:

Provided by Amazon

Registration Date: Provided by Amazon
Marketplace Id:

Provided by Amazon
Note: In case of seller marketplace, you can either provide Aws Secret Key and Aws Access Key Id or MWS Authorised Token. Providing MWS Authorised Token in the settings along with the required fields will be enough to integrate the channel.