Marketing is an essential aspect of your store. Offering coupon codes and discounts to online shoppers can be a key strategy for your online store. It is one of the easiest ways to attract new customers and improve sales conversion.
StoreHippo allows you to create the coupon listing page. The coupon listing page contains the list of all coupons. The customers and guest users can view all available coupons in the form of a list along with their details. The customers may either copy the coupon code to use the coupon or directly apply from here to obtain the discount. The merchants can now produce different types of coupons, and enable shoppers to quickly find ongoing offers/discounts running on the store.
Business Value
During the purchasing process, customers can easily find the coupons available in the shopping cart or checkout payment page (A link needs to be given at the checkout page). A customer can view all the coupons, read the summary of the offer, and use the one that gives the best discount. The admin will show the generated coupon codes in a list view that customers can scroll through.
Within the shopping cart and checkout page itself, customers can view all the coupon codes available and can view the details of each one as needed. In addition, at checkout, customers can copy the coupon codes to apply later.
Features List
The customers can see the whole coupon list on a single page.
The Coupon codes can be applied directly.
The customer can copy the coupon code apply in the cart.
The Coupon details can be viewed by the users.
Creating coupon listing page
To create a coupon listing page, follow the steps mentioned below:
Now, the coupon listing page will be created. With this, the customers would not have to search anywhere else for offers and coupons.
Applying coupons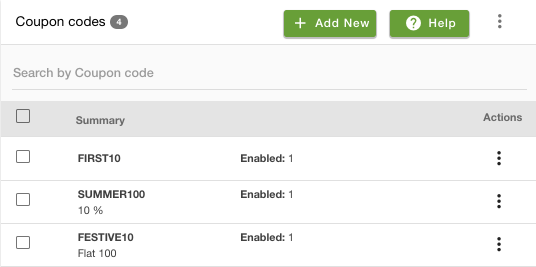 When the admin adds any coupon in the admin panel, it automatically gets added to the coupon listing page. The coupon will be listed only when it is active. Click here to know how to add coupon codes.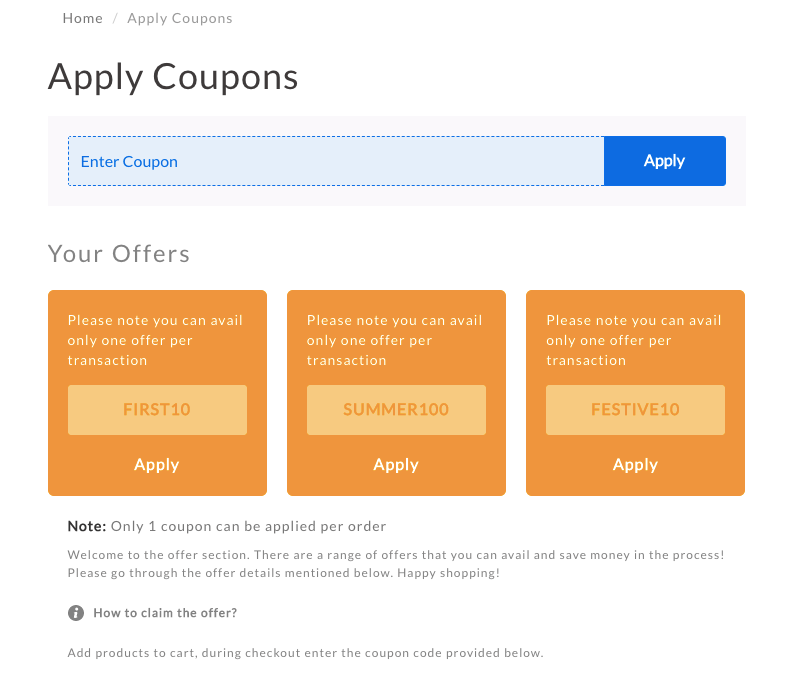 The customer can simply copy the coupon code by clicking on the coupon code and apply on the cart page. Also, the customer can directly apply the coupon from here by clicking the Apply button.