Once the pickup for an order is generated an automated mail is sent to the shipping provider to arrange the shipment, in the case of order cancellation or any other circumstance you may need to cancel the shipment. To cancel a shipment:
Go to Orders > Shipments section in StoreHippo Admin Panel.
Search the shipment to be cancelled either by its order Id or by the tracking number. Click on vertical ellipsis button to open the options window.

Click on cancel shipment.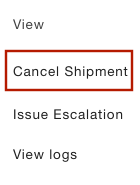 Shipment can be cancelled if the shipment is not picked up orRTOed. Once the shipment is cancelled an automatic notification is sent to the shipping providers and its status is updated to pending_verification. Within 10-15 days, the shipping charges applied will be refunded. Refund of the shipping charges of the shipments can be checked under plans and billing section, refund of shipping charges is applicable either if the shipment is not picked up or not delivered due to any fault at the shipping provider end.
Note: You cannot undo the cancelled shipments.