Want to increase conversions (ex: sales, registrations) on your store, Facebook's tracking and optimization tools can help. By placing a conversion pixel on your store and then adding it to a Facebook ad, you'll know exactly which ads led to your conversions. With our optimization tool, you can also use pixels to help Facebook find the people most likely to take the actions you want on your store and show ads only to them.
Creating a Facebook pixel
To create your Facebook pixel:
Go to your Facebook Pixel tab in Ads Manager.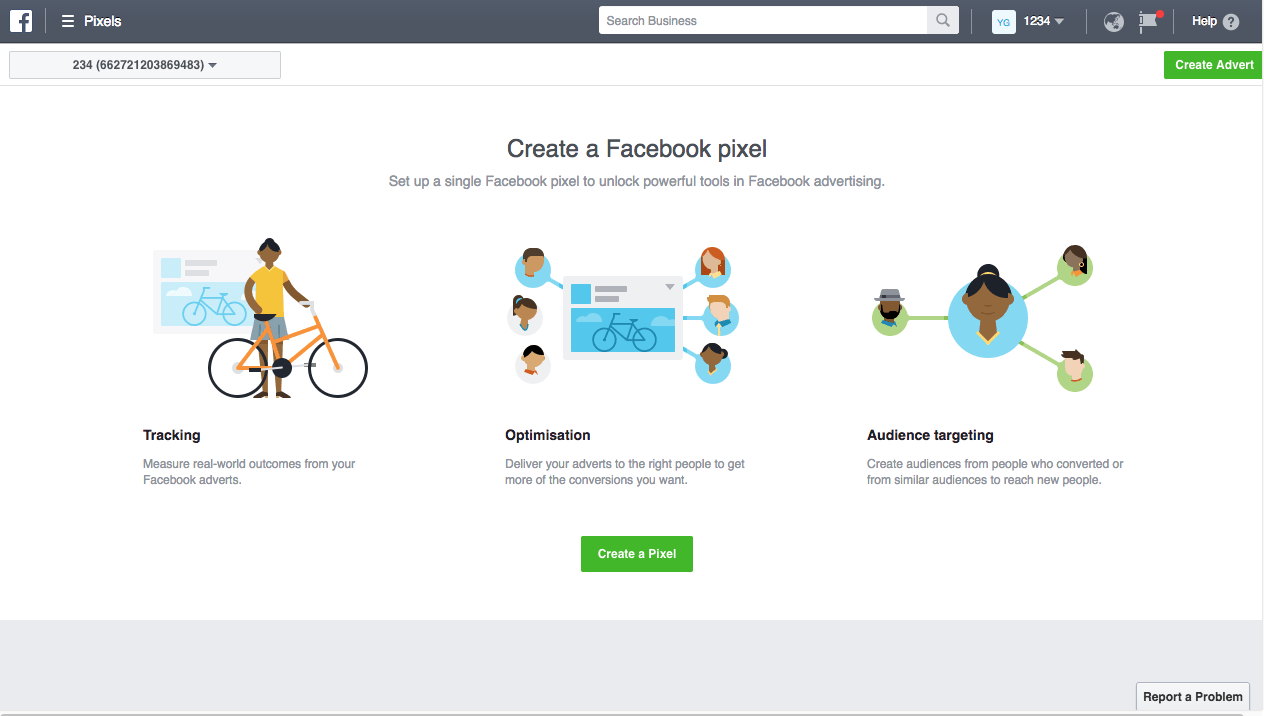 Click Create a Pixel.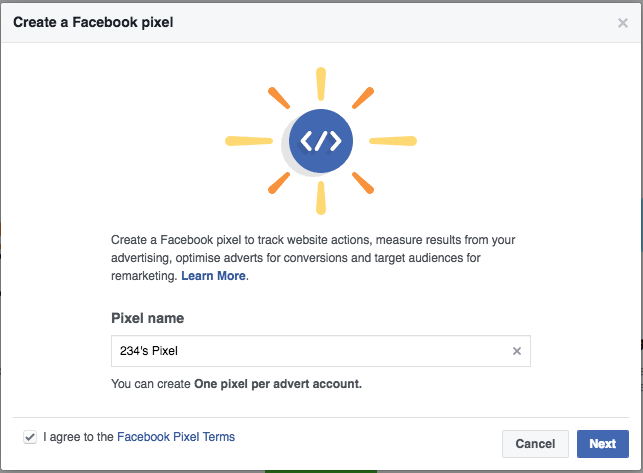 Enter a name for your pixel. You can have only one pixel per ad account, so choose a name that fits your business.

Make sure you've checked the box to accept the terms. Click Next button.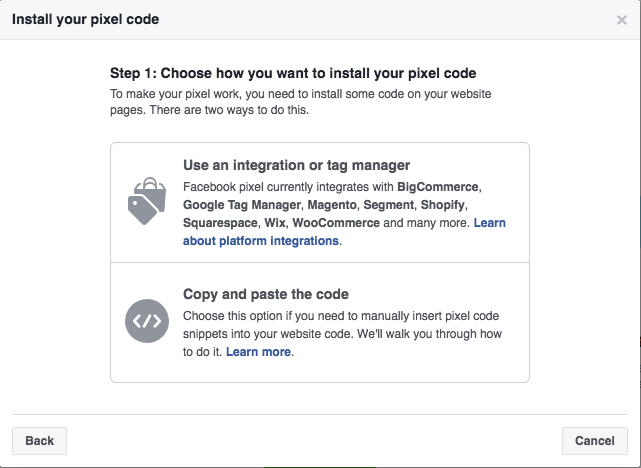 Select the option to Copy and Paste the Code.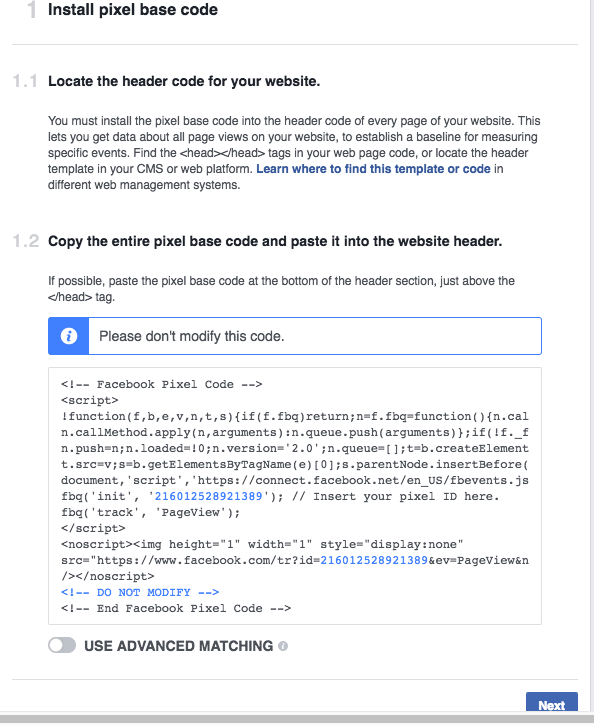 If you work in your store yourself and will be using the analytics provided by Facebook Pixel, then click Install Pixel Now. If you have an agency or another person who will be using the Facebook Pixel data, then click Email Pixel Code, enter the email of that person or group, and click Send.

You can set up Custom Audiences now, or Conversion Tracking or you can click Done to go to your pixel dashboard.

Configure Facebook Pixel on Store
Set up Facebook Pixel ID
Go to Settings > Site Settings in your StoreHippo admin panel.

Enter the pixel id in the Facebook Pixel Id.
Enable Dynamic Product Ads
To enable Facebook Dynamic Ads, follow the Facebook tutorial
You can check Enable Dynamic Ads by selecting the checkbox.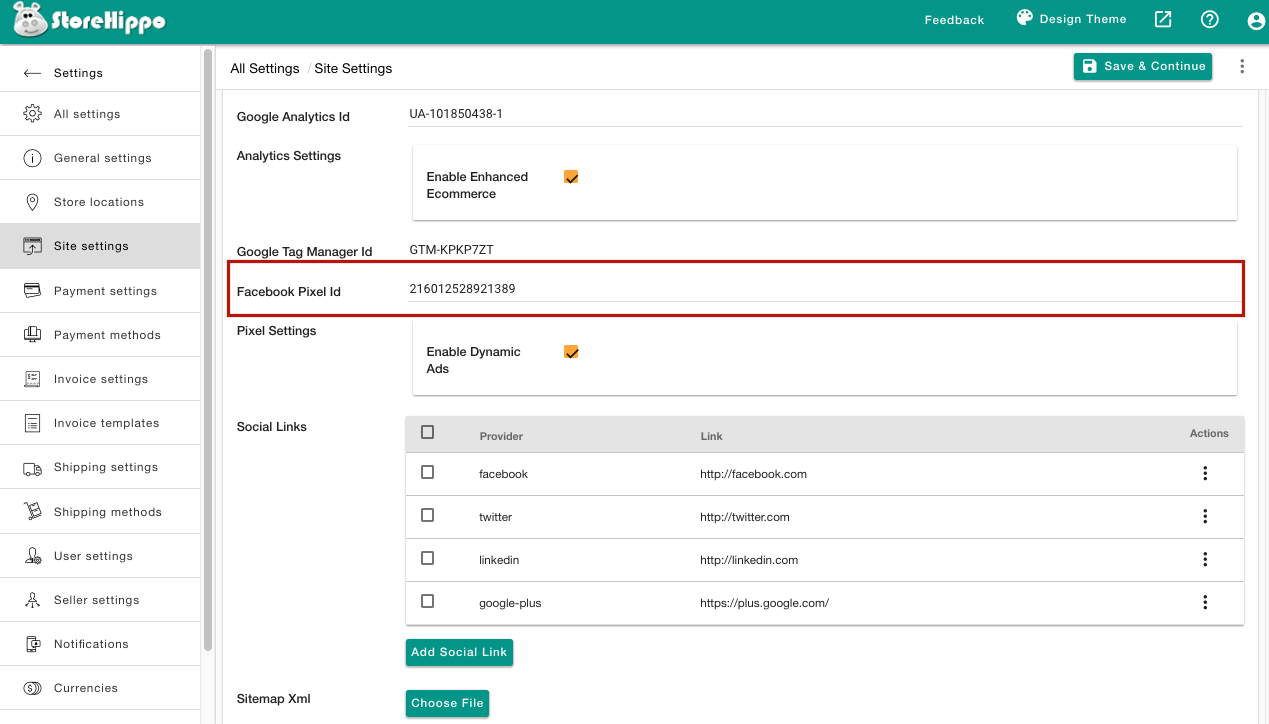 You will need to sync your product catalog to use Facebook Dynamic Product Ads with Facebook's Business Manager.
Connecting your store and your Facebook Pixel account will automatically track data for six Standard Events: ViewContent (product views), AddToCart, InitiateCheckout, AddPaymentInfo, Purchase, and Search. Each standard event tracks an action your customers will do while visiting your store.
Verify Facebook Pixel is working
Facebook Pixel should register data in near real-time as your customers interact with your store pages. To see the data:
Go to Ads Manager on Facebook.

Click the Facebook Pixel tab.

You should now see your pixel dashboard:
If you don't see data in your dashboard, then it could mean:
No activity yet: Facebook hasn't received data from the pixel yet. If you've just installed it, then that might mean you need to give your customers some time to interact with your store to generate data.

No recent activity: Conversion events were recorded in the past, but none were recorded in the past week. Return to your store pages, then check that the visit is tracked by Facebook Pixel. If your visit shows up, then the pixel is working.
Understanding standard events
Standard events track actions your customers do while visiting your store. They allow you to collect data on how your customers interact with your store. There are nine standard events that Facebook Pixel will track. If you use the Facebook Pixel integration by entering your pixel ID in the admin, then Facebook Pixel will automatically track the six most relevant standard events for E-commerce out of the nine available: ViewContent(product and collection views),AddToCart.InitiateCheckout.AddPaymentInfo. Purchase,and Search. It is not possible to customize which standard events the integration tracks. If you want to track additional events, then you can't use the integration and will have to add the Facebook Pixel code to your store manually.
The full list of Facebook Pixel standard events are:
| Event Name | |
| --- | --- |
| ViewContent | When a key page is viewed such as a product page, e.g. landing on a product detail page |
| Search | When a search is made, e.g. when a product search query is made |
| AddToCart | When a product is added to the shopping cart, e.g. click on add to cart button |
| AddToWishlist | When a product is added to a wishlist, e.g. click on add to wishlist button |
| InitiateCheckout | When a person enters the checkout flow prior to completing the checkout flow, e.g. click on checkout button |
| AddPaymentInfo | When a payment information is added in the checkout flow, e.g. click / LP on save billing info button |
| Purchase | When a purchase is made or checkout flow is completed, e.g. landing on thank you/confirmation page |
| CompleteRegistration | When a registration form is completed, e.g. complete subscription/signup for a service |