Integrating your own FedEx account is an extensive process. To successfully integrate the FedEx (Domestic/ International) account, follow thebelow-mentionedsteps.
Generating Test Credentials
After you set up an account with FedEx, you will receive an email regarding FedEx Web Services solutions. Use the guidelines provided in the email to generate the testing credentials.
Verifying Test Labels
Use the testing credentials that you have generated to install the FedEx, go to Settings > Logistics Provider section in StoreHippo Admin Panel.
Click on Add New button. The form with the following field is opened.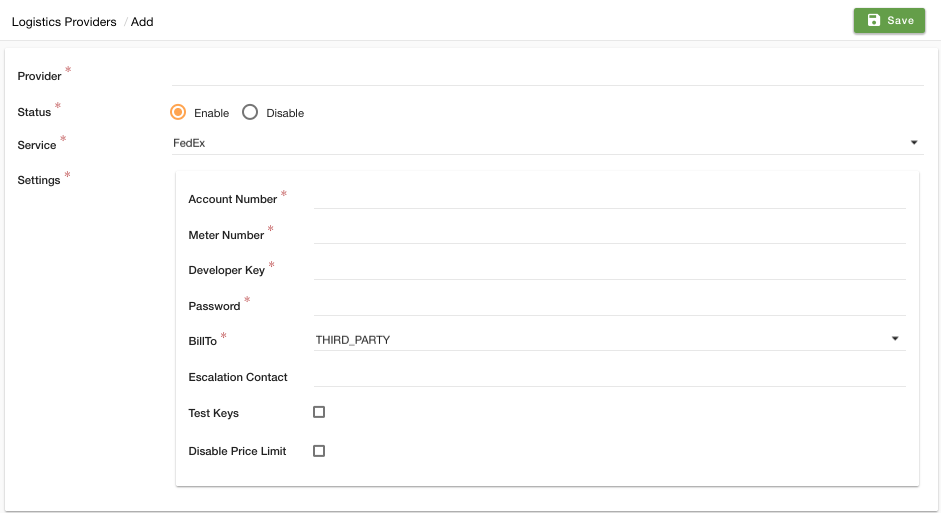 Enter the name of the Provider and select the status as Enable. Select the service provider "FedEx" from the drop-down. Provide the testing credentials in the Settings of FedEx.
You also need to create a pickup using FedEx - test as the shipping method. Go to Orders > Ship Now to ship an order from your Admin Panel.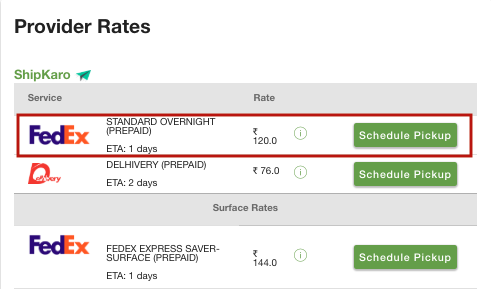 Repeat the process to generate test shipping labels, COD return labels for available services and share the same with FedEx Team for verification.
If the FedEx Team reverts to any crucial change, the same will be done by StoreHippo.
Generating Production Credentials
After successful verification of the testing shipping labels, follow the guidelines provided by FedEx to generate credentials for their production environment and ask them to activate shipping services for the same.
Using Your Live FedEx Account
After getting the production credentials activated by FedEx, provide your live credentials of FedEx account in the account setting of FedEx in the admin panel.
Ship your order using FedEx as shipping method and ask FedEx team for confirmation of the same.
Click here to know more about how to integrate your logistic partner: Logistic providers
Note: If you are using both FedEx domestic and international services, you have to integrate separately and use them accordingly.