You can access general settings by going to Settings > General section in your StoreHippo Admin Panel.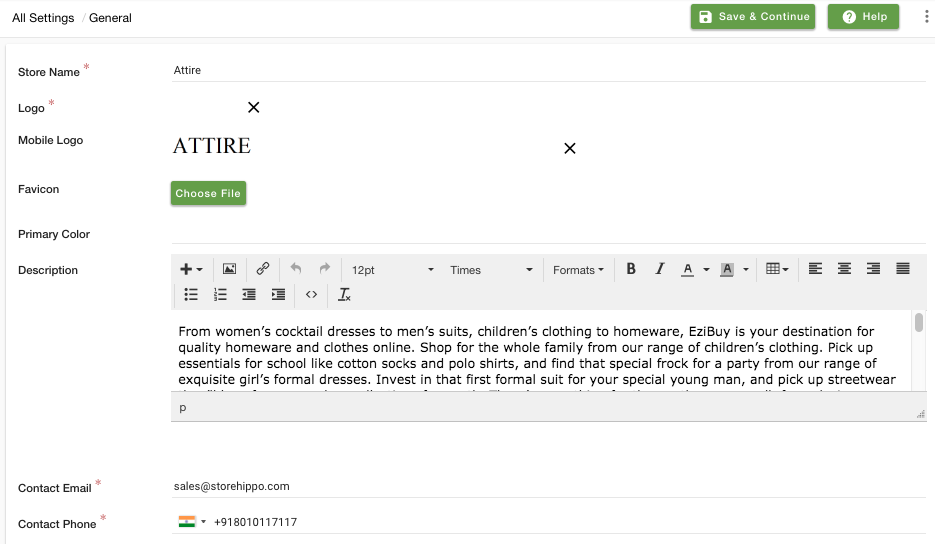 General Settings will have the following fields:
Store Name
Store Name should be short and vigilantly selected. Store Name is used to refer to the store wherever required e.g. in mail notifications. This is different from SEO title (defined in Settings > SEO section) which is used as the default page title on the StoreFront.
Logo
Here you can publish the Logo of your store. The logo is used in the site header on the Storefront as well as in Notifications.
Mobile Logo
Generally, mobile themes require a short and crisp logo which is different from the logo that appears on bigger screens. This field allows you to specify an alternate mobile logo that can be used in mobile themes.
Favicon


Favicon (short for favourite icon) is the small icon that appears in the address bar of a browser accessing the site. Your store favicon should be unique and should be derived out of your brand icons and guidelines.
Description
A brief introduction to your store and your company that should briefly cover your 'About Us' details. The description is used in the footer of different themes to let customers give a brief overview of the store.
This is different from the meta description for SEO purposes (defined in Settings > SEO section).

To create the About Us page on your Storefront, you should use Pages.
Contact Email
Email through which your customers can reach out to you, wherein they can share their grievances or can also contribute to your store's enhancements with their feedbacks. This will also be represented as your support email and will be displayed on your live store.
Contact Phone
Contact number, a landline or a mobile, which will let your customers interact with you or reach out to you for a telephonic conversation.
Copyright
Legal Name and Authorization stamping which will safeguard your store's content, pictures and other essential elements that you would not like your competitors to copy or duplicate.
Under Construction
It is the image which appears when your store is under maintenance.
Password Page
Enable the
password page
which is a single page banner that restricts the visitors to access the store before its launch. You can only access the store once you enter the password that you set here.

Default Time Zone
Select your country's local time zone from the drop-down list. This would then track all the activities on your store basis your set time zone.