Note:
This document is for the users using Universal Analytics (Google Analytics 3). However, if you are starting up with the analytics, we recommend you to use Google Analytics 4.
Google Analytics (GA) gives you the digital analytics tools you need to analyze data from all touchpoints in one place, for a deeper understanding of the customer experience. Google Analytics is a widely-used web analytics service that tracks and reports website traffic offered by Google. It allows you to track visitors to your store and generates reports that will help you with your marketing.
---
Setting up
Follow these steps to set up Google Analytics for your store:
Create a Google Account
The first step is that you need a Google account. If you already have a Google account, then you should set up your Google Analytics using that Google account. Or you will need to create a new one.
Sign up for Google Analytics
Once you have a Google account, follow the below-mentioned steps:
Go to the Google Analytics website. The next window will show the three steps you must take to set up Google Analytics shown below:

Click the Sign Up button and fill out the following information for your store:

After filling all the details, click on Get Tracking ID at the bottom of the window.

Now you need to get your Tracking ID. Click on the All Web Site Data.

You can find the Tracking id as shown below:

Configuring GA on StoreHippo
Follow these simple steps to configure GA on StoreHippo:
Go to the Settings > Site Settings section in the StoreHippo Admin Panel.

Mention your Tracking ID which you got from the previous step.


Select the checkbox to enable Enhanced E-commerce (explained in detail in later sections).

You now check traffic on your website.
Verify your configuration
After you have enabled the store settings, you can verify that Google analytics is going well. Click on the Real-Time on the left side panel to check all the reports regarding tracking the website.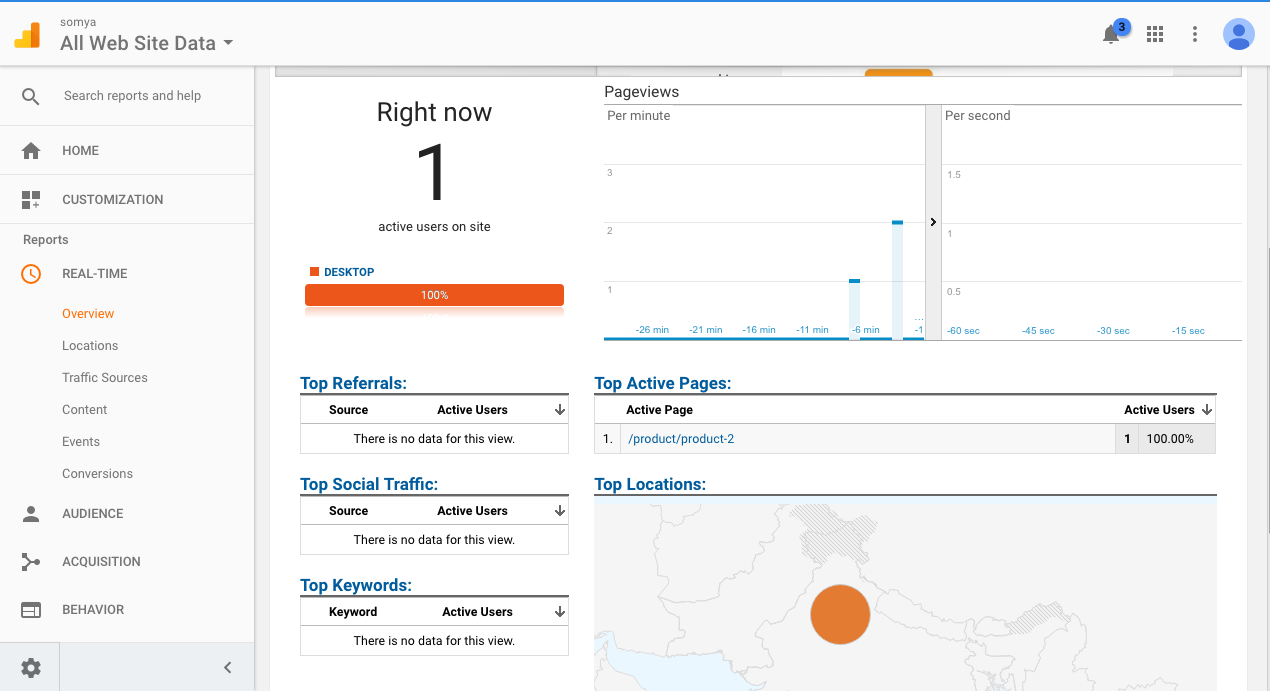 Turn on E-commerce settings
After you have got the tracking id and provided it in your store, you will need to Enable E-commerce settings from your Google Analytics account to make sure that e-commerce data is included in your reports.
Configure goals
A Google Analytics Goal can be any action that a visitor might do during a visit to your website (e.g. View Product, Adding product to cart, etc.). You can easily track and measure the extent to which your users do anything on your website. You can do this by setting up goals for your analysis.
Google Analytics 4
If you have set up Google Analytics 4, you will not find the tracking ID. In that case, you need to get the measurement ID and configure Google Analytics with your store. Click here, to know more about configuring Google Analytics with measurement ID.