StoreHippo provides the guest checkout functionality to your store. When a guest user (the user who has neither registered nor logged in to your store) proceeds to checkout and makes a purchase from your store, it is known as guest checkout. If the guest checkout feature is enabled, the shoppers are not entailed to log into the store. The customer's information is applied to one order only and is not stored for further reuse.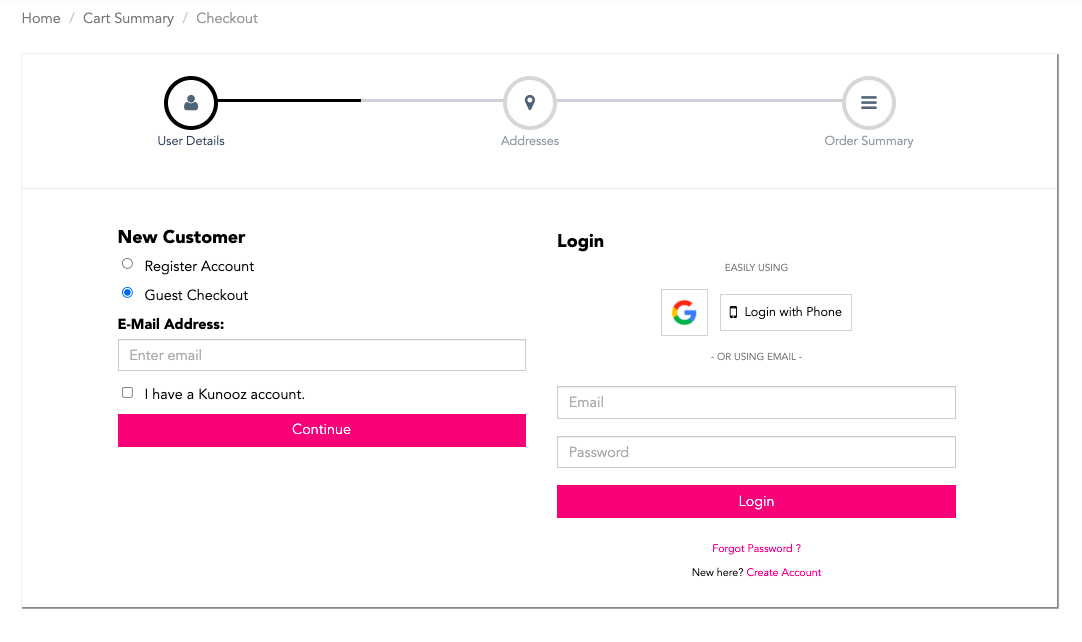 The guest checkout feature reduces the hindrance faced by the customers while making a purchase. Consequently, there is a low probability of abandoning the cart.
Enabling guest checkout feature
The guest checkout feature is already enabled in most of the themes. However, you can enable/disable it at your own convenience. To enable the guest checkout feature in your store, follow the steps mentioned below:
Go to

the

Design theme

section

in

the

StoreHippo Admin Panel.
Under the Design section, click the Miscellaneous option.
Enable the show guest checkout field. By enabling this field, the guest checkout feature will get enabled in your store.
Enable the guest checkout default field. When you enable this field, the guest checkout option will become the default option.
Save the changes.
Now, the guest checkout functionality will be enabled in your store. Similarly, to disable the guest checkout, you can deselect the guest checkout checkboxes.
Registering guest user
It's not all benefits when you enable guest checkouts. Along with the pros, there are few cons of the guest checkout, such as:
You won't be able to harvest information to customize marketing.

It would be difficult for you to reach out to abandoned carts.

It would be difficult for you to manage customer retention.
To overcome such challenges, StoreHippo provides you the Guest User Registration functionality. However, to do so, the guest checkout feature should be enabled in your store. Suppose a new shopper lands on your store and proceeds to make a purchase by making the guest checkout, then that user will be registered as the guest user. The user gets registered against the same information which was provided by him while making a purchase as the guest user.