Scenario
You're running a multi-seller store. So, for the same product, there will be multiple sellers selling the product at different prices. You want to show the products sold by multiple sellers at different rates to the same product.

Example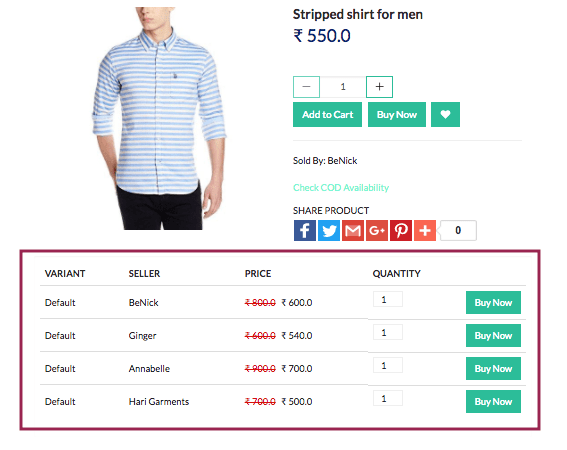 Steps
You can specify different pricing for the same product from multiple by the Linked Products functionality on your store. The steps are mentioned below to add linked products to your store.
Go to

Products >

Linked Products

section in your

StoreHippo Admin Panel

to access the Linked Products.

Click on Add New button to add a new linked product.

Select the Name of your product 'Stripped shirt for men' from the drop-down.
Enter Price as '600' and Compare price as '700'.
Select the Publish check box to publish the product.

Choose the Seller as 'BeNick'.
Mention the product as approved.
Save the product.

You can create more linked products of different sellers for the same product at different pricing same as above.
All the linked products will be listed in the admin panel as shown below:

The linked products appear on Storefront as shown. Your customers can compare the price and buy the product from the desirable seller by clicking on the Buy Now button.