You can import and export users in bulk through CSV file. StoreHippo provides the option to import and export users. If you want to add users in bulk to your store, use the import option. If you wish to export your store's customers and their details, use the export option.
If you have a list of existing users that you want to add to your store, you can use the import users in bulk using a simple CSV format.
To import a user CSV:
Go to Customers >

Users section in

StoreHippo Admin Panel.
Click on the vertical ellipsis button and choose Import

from the drop-down.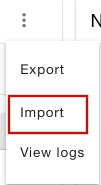 In the Import

dialog, click Choose file, and then select the CSV file that you created.


Click Import. The users whose records you've added to the CSV will appear on the

Users page in your StoreHippo admin.


Export existing customers
You can export a CSV file of all your store's customers and their details, or a filtered list of customers and their details.
Click on the ellipsis button and choose Export from the drop-down.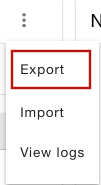 In the pop-up opened you can use the filter and export the filtered users.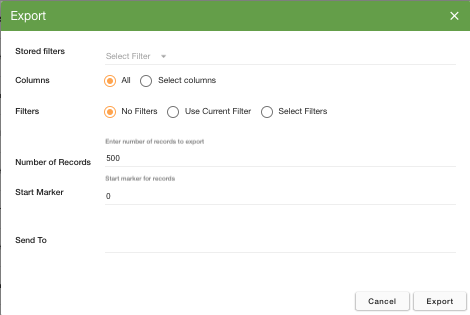 Fields available in export pop up:
Stored Filters
Choose the filter for which you want to export the file. To add a new filter, click on Add New and enter the Name of the filter. The filter stored automatically when the file is exported and will be available in the drop-down for the later use.

Columns
You can export all of the columns in the order data, else you can also export specific columns based on your requirement.

Filters
If there are some specific users that you want to export, then use the Export Filters to select for export. There are three options:
No filters: It will be selected by default. No filters will be applied to export by default.

Use Current Filter: These are the filter(s) that are currently applied by the user. For example, click on the published tab and search for a product with product name "polo".

Number of records
By default system exports 500 records in one go. However, the maximum limit to be exported in one go is 10000. To export 10000 records in one go, you can mark the number of records as 10000 or less.
Start marker
Start marker allows you to set the starting index for the export. The export will skip the number of orders specified in the field. In the first set, only 10000 records are exported. Hence to export next 4000 records, you can keep the number of records as 10000 and start marker as 10001, hence it will export records from 10001 to 20000.
Send To
Provide the email id on which you want to send the downloadable link to the exported file. The CSV file can be downloaded by the link provided in the mail. The link expires automatically after 7 days.