Login Providers allows you to set up social logins to enable your customers to log in using providers like Facebook, Google, LinkedIn etc.
Go to Advance Settings > Login Providers in your StoreHippo Admin Panel to manage the login providers for your store.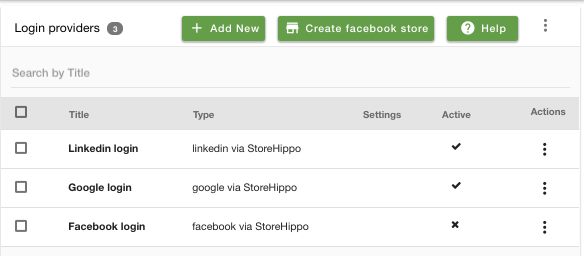 Adding Login Providers
To add a new login provider, click on Add New button. The window appears with the following fields: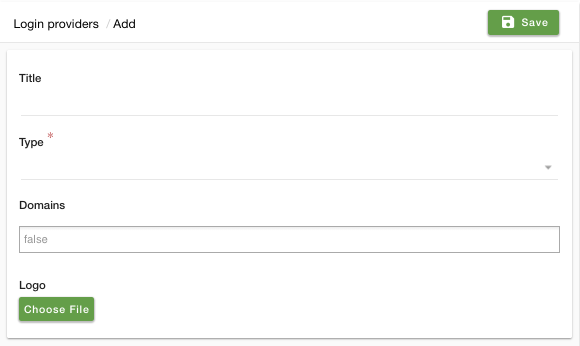 Title
Enter the title of the login provider.
Type
The type defines which social network you would like to configure or associate with your store. You need to specify the credentials of the provider account according to the selected type. However, if you do not wish to configure the login provider using your credentials, StoreHippo also offers built-in ready to go social login options that are turned on by default.
Facebook via StoreHippo
LinkedIn via StoreHippo
Google via StoreHippo
Facebook
Linkedin
Google
Account kit
Domains
Domains on which this login provider is enabled. When you configure different login providers, e.g. facebook, google etc., they are bound to a specific domain or subdomain which allows them to be used only in that particular domain. If you store has multiple domains configured, then only the login providers enabled for that domain will be available in themes.
Logo
Logo of the login provider that can be used in themes to display a link on the login page to access that login provider.
Enabling login providers
After you have added the login provider, you now need to allow it to complete the setup. Click on the ellipsis button against the provider and choose the Enable Provider option to activate the login provider.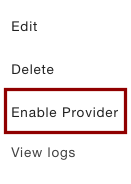 Clicking on the Enable Provider button will add the login provider from the login/register page.
Deleting Login Providers
You can delete the login providers of your stores to not show them to the users on the login/register page. If you wish to delete any login provider, click on the ellipsis button and choose the Delete option from the drop-down.

Clicking on the Delete button will remove the login provider from the login/register page.
Create a Facebook store
StoreHippo allows you to create a store on your Facebook page to sell products. Once you have your own Facebook Page set up, you can set up your Facebook store as one of the tabs on your Page. StoreHippo can automatically synchronise all your products to your Facebook store.
Setting up Login Provider Accounts