StoreHippo provides seamlessly integrated shipping solution. You get integrated logistics solutions with multiple delivery partners on a single platform. You can choose the leading shipping partners and get automated integration in no time.



StoreHippo is integrated with ShipKaro which brings together the leading domestic and international logistics providers on a single platform and offers hassle-free, automated logistics services for E-commerce businesses across diverse industry verticals. By default, ShipKaro is enabled in all stores.
You can make changes in the settings of ShipKaro. Click on ShipKaro. The following window appears:


Provider
The name of the provider is pre-populated in case of ShipKaro.
Status
The status is enabled by default. If you don't want to use ShipKaro, you can disable it.
Settings
Services: You can select specific logistic providers that you wish to use for shipping.
Disable Price Limit:

There is a default limit of 5000 on the shipping cost of a shipment, to avoid abnormal shipping charges. This flag allows you to disable this limit.



Adding logistics provider
You can also integrate your own multiple logistic partners for shipping. Click on Add new button at the top right corner. The following form appears
with
the fields explained below: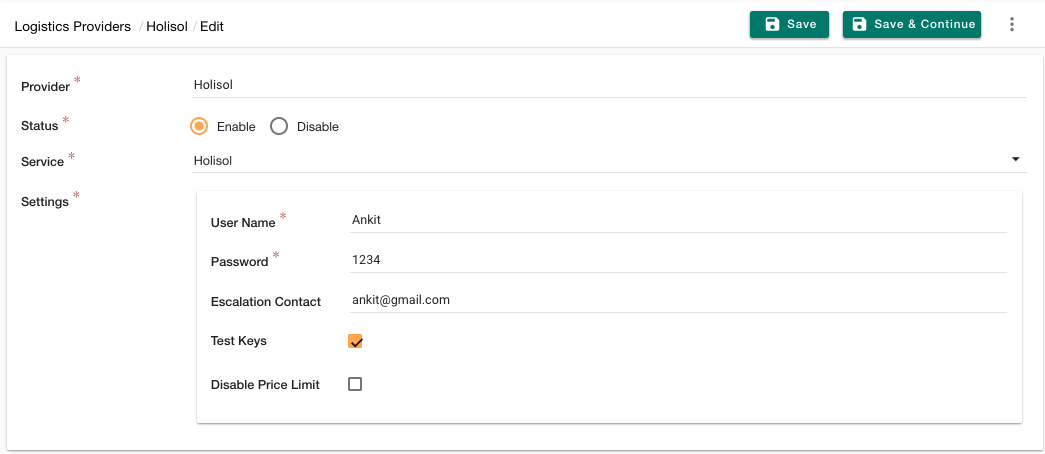 Provider
Enter the provider name in this field.
Status
Select the status of the provider. You can select enable if you want to use it or disable if you don't want to use it currently.
Service
Select the logistics provider which you want to integrate from the drop-down. When you have selected a provider, you will need to enter few setting details. You can get all these details from the admin panel of the logistics provider,
For example, if you select Holisol as the logistics provider, you are required to provide your username, password, escalation contact and text keys.