Marketing is an important step to increase traffic and converting visitors into customers. When you sell your products online, you should try improving SEO in search engines and advertise your products. Tactics such as providing discounts and coupon codes for customers helps your online store in marketing.
Marketing section in the StoreHippo Admin Panel contains the tasks that allow you to market your store.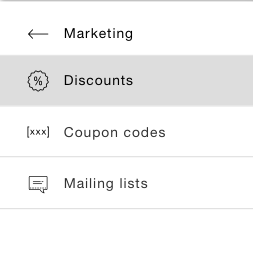 Discounts
The Discounts section allows you to manage promotions. You can create product level discounts like discounts based on a specific product, category, or collection. You can also set multiple conditions like minimum/maximum order amount, products, categories, collections, and users for which the discount will be applicable.
Coupon Codes
Offering coupon codes is another powerful way to manage promotions for your store. There are no limits to the number of coupon codes you can create. Coupon codes can be generated for a flat value discount or percentage discount. You can also specify the dates for which the code is valid, the number of times a code can be used, a minimum order amount before the code can be used, and to which products, collections, or categories the coupon code can be applied.
Mailing Lists
User Lists or Mailing Lists are the lists of users that can be used to segment the customers based on some conditions. Then, the lists use to segment customers and sync them with yourfavoritemail service provider. It can be used as a powerful tool to create and keep a track of dynamic collections of your customer's contacts grouped together, or segmented, based on the criteria you define.