A refund is a record of the money returned to the customer, of the items(all or some), on an order which may or may not has been restocked.

You can refund an order through Orders and Refunds section. An order is eligible for a refund only if it is either cancelled or returned. In the case of the return, you need to specify the RMA you want to refund.
You can manage refunds from your from the Orders > Refunds section in StoreHippo Admin Panel. Only Cancelled orders can be refunded.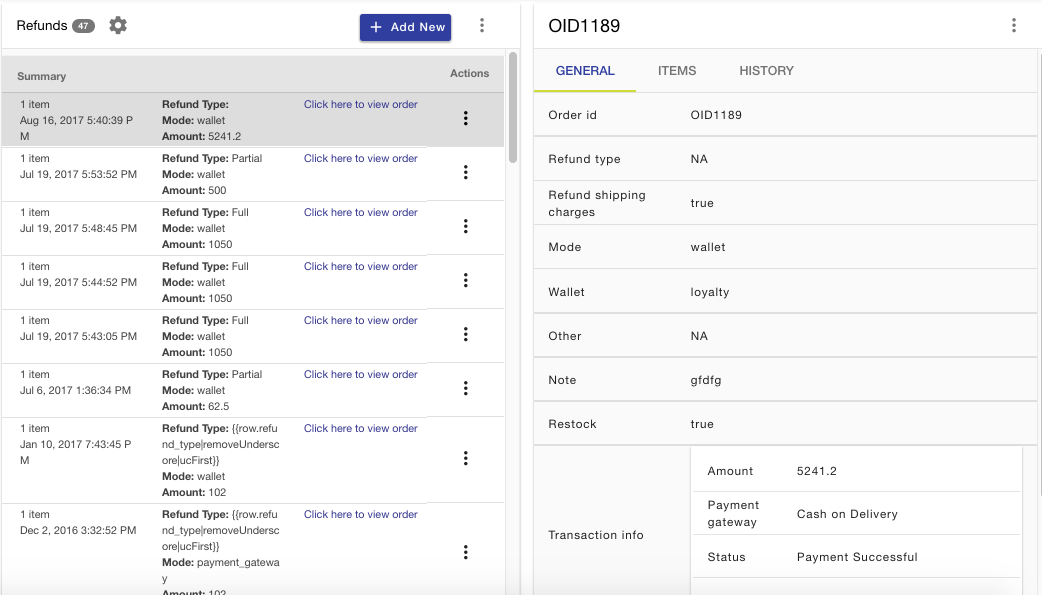 Click on add new to add refunds. The following form with the fields mentioned below appears: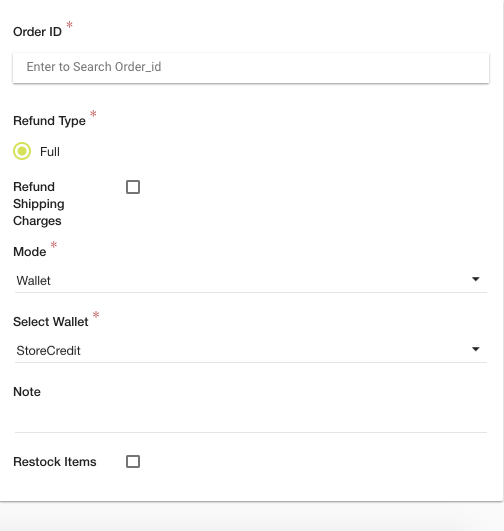 Order ID
Select order id of the order that you want to refund from the drop down.
Refund Type
There are two types of refunds:
Full Order
The full order refund type means that the order which was shipped to the customer is fully refunded.
Partial Order
The partial order refund type means that the order which was shipped to the customer is refunded partially.
Refund Shipping charges
Usually, shipping charges are not refunded if they are applied to any order. So, if someone wants to refund the shipping charges, he/she can check 'Refund Shipping Charges' checkbox.
Mode
A radio button group havingfollowingoptions:
Wallets: It gives us a list of the available wallets to choose from so that the refunded amount is added to that wallet. In case no wallets are available in store, a default wallet named 'StoreCredit' is available.
In case of orders created by admin from admin panel via add/duplicate order, there might be some problem inrefundprocess because it does not have provision to add wallets yet.
Payment Gateway: This calls the refund API of the payment gateway through which the payment of that order has been done. This option will be visible if all of the following conditions is true:
if payment is not done through wallets.
the order is not split.
shipping charges are applied to order and you want to refund them by checking the 'Refund Shipping Charges' checkbox or shipping charges are 0 and you are refunding the full order.
Other: In some cases, the user can give his bank details or tell some other way in which he wants to refund. Once you have processed the refund, you can mark the order as refunded through 'Other' mode.
Note
A text field which takes a reason for doing the refund as an input.
Restock
A checkbox which needs to be checked in case updating of the inventory is required.
Additional charges and taxes will only be refunded if the refund process is initiated via payment gateway and cannot be refunded partially for now.

After a successful refund, a mail is sent to customer, seller, and admin. All the details about refund are saved in a separate 'Refunds' Section in the admin panel.
Supported Payment Gateways
We have integrated some payment gateways with our platform that support the Refund API. They are listed below:
a. PayU
b. PayTm
c. PayPal
d. Ebs
e. Atom
f. Stripe
g. Instamojo
h. Paypal Adaptive (supports partial refund also)