Under the Sellers section, you can manage sellers who sell products on your store. Every store has at least one seller. When you create a store on StoreHippo, adefaultseller is automatically created who is the same as the store administrator.
To access the Sellers section, go to Sellers in StoreHippo Admin Panel.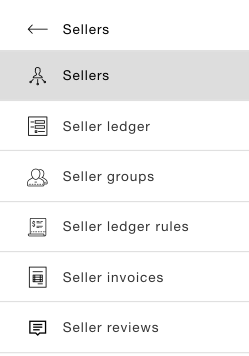 Multi-Seller Stores
StoreHippo allows merchants to convert their store into multi-seller marketplaces. That means the merchant can invite other sellers to sell their products in their stores. StoreHippo provides comprehensive tools for admin to manage sellers and for sellers to manage their orders.
Multi-Seller functionality is available only in Business and Enterprise Plans.
---
Sellers
You can manage sellers in the seller section which has been added to the admin left panel with options to add, approve and reject sellers. You can add new sellers or check the details of registered sellers in this section. StoreHippo allows you to control the approval flow for sellers.
---
Seller Ledger
In a multi-seller marketplace, admin and sellers need to keep a track of different transactions that take place in their accounts. Seller Ledger section allows you to view and manage these transactions.
---
Seller Ledger Rules
In a multi-seller marketplace, the admin might want to charge the seller's fee/commission on different activities e.g. when they sell or list their products on the marketplace. You can manage the rules to define the fees/commissions for sellers in Seller Ledger Rules section.
---
Seller invoices
This section will display the list of paid and pending invoices for the sellers.
---
Seller groups
This section will display the list of seller groups. Similar to the User Groups, the Seller groups are used to group the sellers. One seller can belong to many groups. By grouping the sellers, you can perform various operations, such as set free shipping for one seller group or enable COD for a specific seller group.
---
Seller reviews
This section will display the reviews and ratings given to different sellers by the customers. Seller ratings and reviews you know how customers experience while making a from your seller.