Before you can integrate Google Sign-In into your website, you must have a Google API Console project. In the project, you create a client ID, which is needed to call the sign-in API.

To create a Google API Console project and client ID, follow these steps:
Go to the Google API Console.
From the project drop-down, select an existing project, or create a new one by selecting Create a new project.
Now we need a configuration file for our Android app. So go to this link.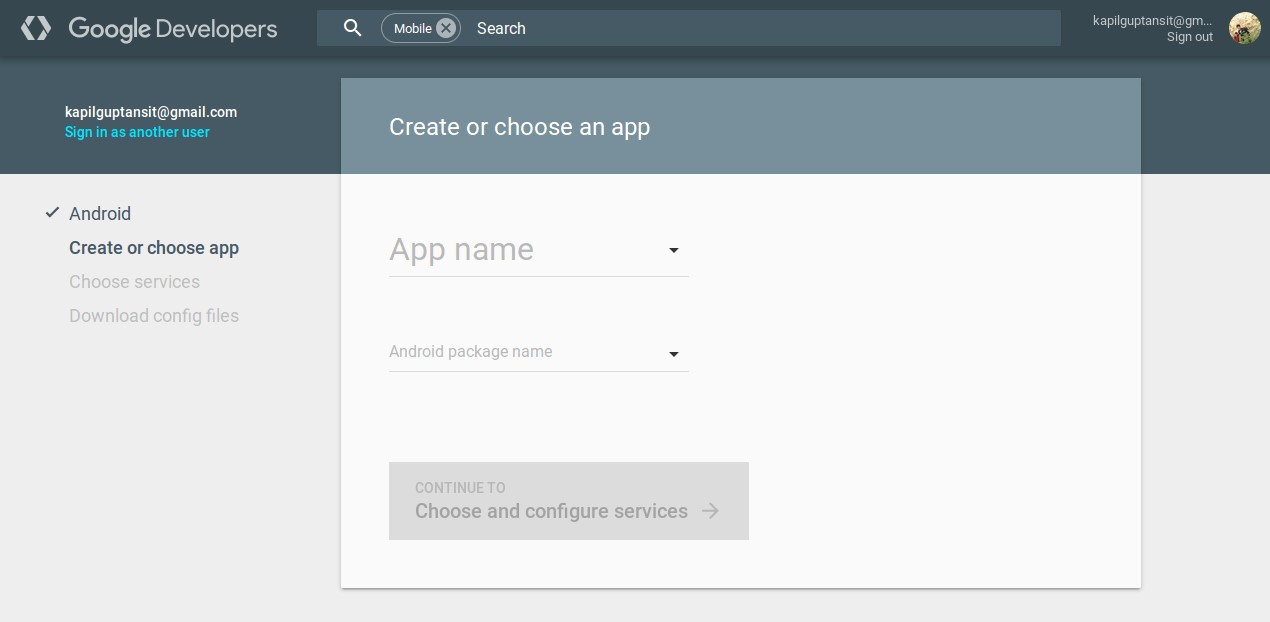 Select your app that you just created on the developer console.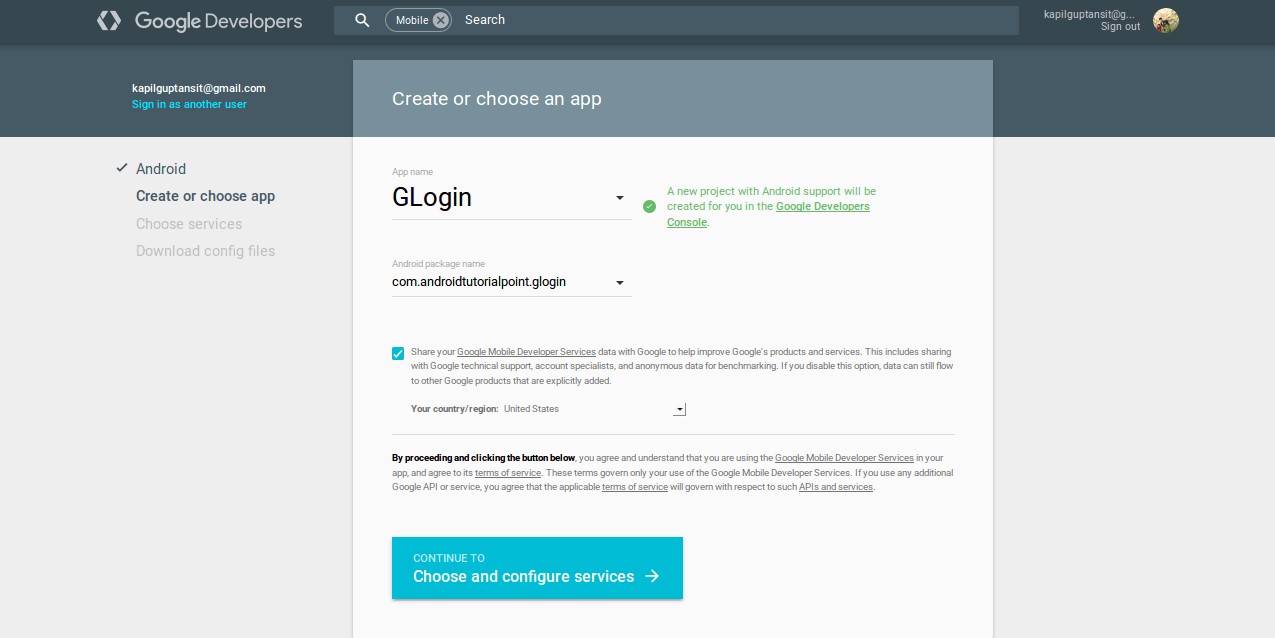 Enter the package name of your app. It should be in the format com.storehippo.app, in the Mobile App section in the StoreHippo Admin panel.

Click on Choose and configure services button.

Now select Google Sign-In the service page.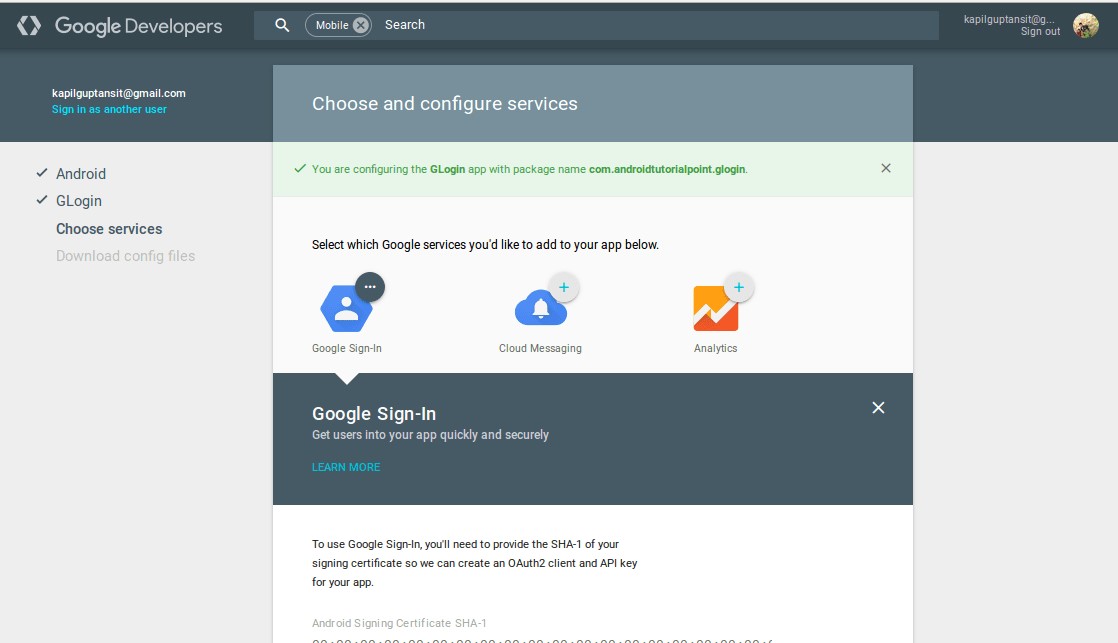 Generating SHA-1 fingerprint
If you are using StoreHippo inbuilt Android build then the SHA-1 is 15:27:AE:98:AA:0F:93:05:4F:6A:1E:F1:99:1E:88:D9:33:29:AA:AE
else,
You have to follow these steps to generate SHA-1 fingerprint:
Open your terminal and execute the following command. If it asks for a password, type android, and press enter.
| | |
| --- | --- |
| | keytool -list -v -keystore<PATH to the KEYSTORE> -alias <ALIAS of the KEY> -storepass <PASSWORD> -keypass <KEYSTORE PWD> |
Copy the SHA-1 ID generated in your terminal as fig below: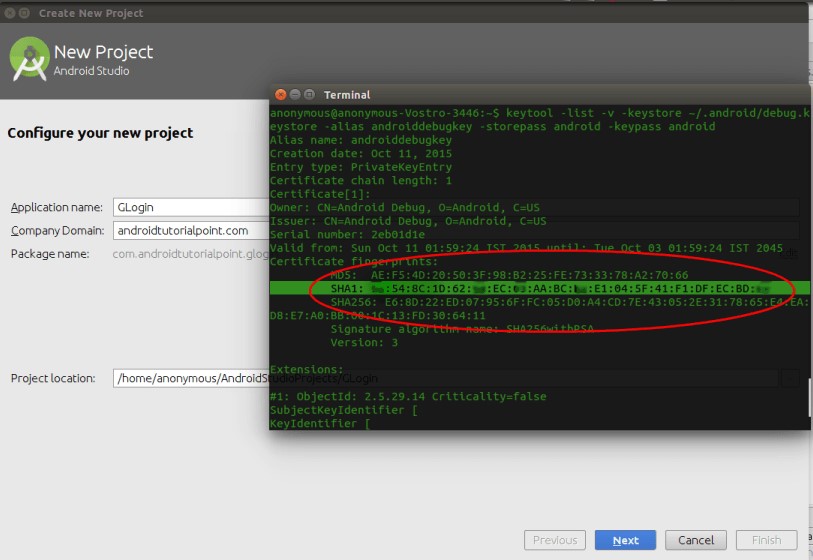 Enter the SHA-1 ID to the Google developer's page.

Click on ENABLE SIGN IN button.

Click on CONTINUE TO GENERATE CONFIGURATION FILE button.
This will open download and install configuration page, click on Download google-services.json button and keep the file for backup purposes. Make sure you execute the keytool steps as explained here or authentication will fail.
Get the Client ID from the downloaded file. It will be in the format:
"client_id": "<uniqueId>.apps.googleusercontent.com"
Make note of the Client ID, whose reverse will be supplied in the StoreHippo Admin Panel in place of Reversed Client Id i.e. com.googleusercontent.apps.uniqueId
Go to Mobile Apps > Mobile apps section in StoreHippo Admin Panel. Edit the app and go to the Social Login Section. Enter the reverse client id in the Google social login field.