Shipment Price Adjustments
Whenever the admin or seller schedules a shipment through ShipKaro services the shipping cost of the shipment is displayed in admin panel and the store is billed accordingly.
This initial price is strictly indicative and hence is not the final charge for the shipment.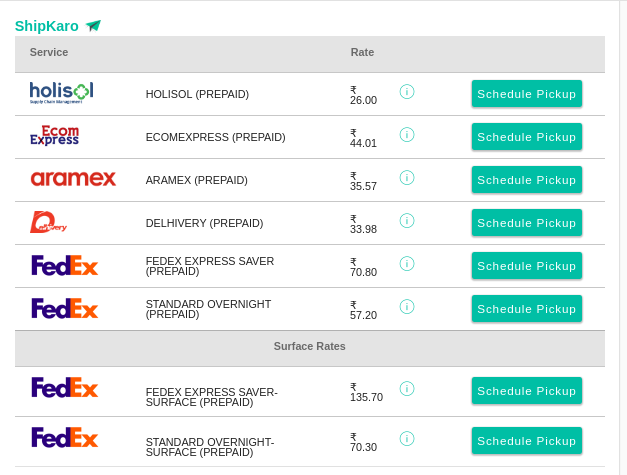 Initial billing of ShipKaro shipmentsin storetransactions:

The final charge for a shipment, as invoiced by the respective provider, may vary from the initial price depending on different factors such as:
Actual volumetric or dry weight (whichever is higher) measured by the logistics provider.
Additional surcharges involving address change, RTO charges, out of delivery area etc.
Surcharges levied on specific zones, upcountry and rest of state locations depending on the origin and destination locations.
Other charges applied by the logistics provider.
Such difference in the price charged against a shipment is adjusted to the store's transactions as a debit or credit entry, depending upon the change. These are termed as shipment price adjustments. The adjustments are applied after the processing of daily scan/weight reports and invoices provided by the different logistics providers.
Adjustment Mailers
When price adjustments are applied to the shipments, the corresponding admin receives an email that detailed list of the adjustments made for their consideration.

There can be two kinds of adjustments against a shipment:
Adjustments in Admin Panel
The admin can click on the link provided in the adjustment mailer to view all the adjustments made to his shipments.