Once you receive an order, you might want to ship the orders. StoreHippo offers a seamlessly integrated shipping solution, ShipKaro, so you could ship your orders in just a few clicks.
Shipping through integrated ShipKaro
To ship an individual order through ShipKaro, please follow these steps:
Go to Orders section in StoreHippo Admin Panel.
Search for particular order id.
Click on order in the search results to see order details.
Click on ellipsis button in the top right corner of the order detail panel and click on Ship Now.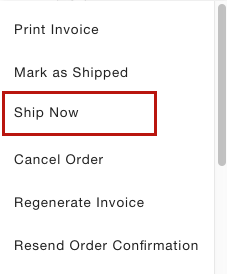 This will take you to the Ship Now section to confirm the shipping details of the order and to select the logistics provider for shipping. Once you have shipped the order, you can go to Shipments to manage your shipments. You can also cancel the shipment before it is picked up.
Integrate own shipping account
If you have your own logistics account or want to ship orders outside India then we can use one of the integrated logistics providers to ship your orders.
Mark order as shipped
If you have shipped the order through some shipping provider that is not integrated with the platform or have shipped the order manually, then you can mark the order as shipped from the vertical ellipsis icon.
Order Statuses
Once the order is shipped, then it goes through different fulfilment states. Following is the list of possible values for fulfilment status:
| | |
| --- | --- |
| Manifested | Manifested means that the shipment is in the origin warehouse and is in the process of being dispatched. |
| Dispatched | This status means that the shipment is dispatched to the destination warehouse from the origin warehouse. |
| In Transit | In transit means the package has left the sender's locale but has not yet been delivered to the intended recipient's address. It is en route, in between the point of origination and the point of destination on whatever conveyance is being used to transport the product-railroad, plane, truck or boat. |
| Delivered | This status means that the shipment is delivered to the receiver. |
| RTO | In case a shipping package could not be delivered at your doorstep for a certain reason like door found locked or location not found etc, the item must return to the warehouse. |
| Return | This status is shown ifthe return request is sent to the shipping provider from either the shipper or receiver end. |
You can print shipping label after the order is shipped. You can print Invoice of the order as some logistics providers require that to be sent along with shipment. StoreHippo automatically updates the status of the shipments done through supported logistics providers.
You can also configure Mail Notification for Shipping Status Change when the order's shipment status changes.