It is important to have a dynamic, beautiful and visually attractive store to capture your customer's attention. When you have your store hosted on the StoreHippo platform, you have the liberty to design the look and feel of your store through Site in your StoreHippo Admin Panel.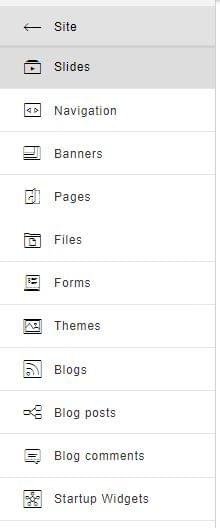 Site section contains the following subsections:
Slides
Slides are images that can be used in a group. The most common use is to use slides as part of the carousels on your homepage. When a customer visits your store, these slides show up one after the other. Important announcements related to your store and other promotional activities can be displayed via Slides.
Navigation
Navigation allows you to define navigation menus for your storefront.
Banners
Banners are static images for your store. You can use banners to show promotional offers, highlight featured products or category for affiliate links.
Sliders, Banners, and Navigation can also be part of the themes. But keeping them here allows you to use the same images or navigation across multiple themes without needing to recreate them.
Pages
You can add web pages to your store in the Pagessection. The pages could be informational like 'About Us', 'Return Policy' or could be landing pages for your marketing campaigns. Storehippo allows the creation of dynamic web pages which can include theme widgets or forms.
In StoreHippo, we do not restrict you to static HTML content for pages. You can create dynamic templates in the same way you developthemepages. The ability to include theme widgets or forms in your pages opens up a plethora of possibilities.
Files
Files section allows you to upload files that can be referenced on the store which includes but is not limited to the product description, blog page, static page, category page, etc. The files can also be referenced in CSV files used for bulk import of products.
Forms
StoreHippo has a powerful Form generation capability. You can customize all the existing forms e.g. registration, shipping address, inquiry forms used in-store themes or can also define custom forms.
Themes
Themes section allows you to manage the themes for your store. StoreHippo allows you to import multiple themes. You can also specify different themes based on the user's device or other conditions.
Blogs
Blogs are very effective tools for marketing, announcements, customer engagement, and SEO. StoreHippo offers a comprehensive built-in blog functionality for your store that enables you to run and promote professional blogs in your store.
Blog Posts
Blog Posts are posts or articles in a particular blog that is showed in reverse chronological order on the blog page. You can manage blog posts for different blogs in this section.
Startup Widgets
In this section, you add startup widgets. Startup scripts contain logic to add behaviour to storefronts. Startup widgets make it possible to add behaviors that are standard across different themes.