You can use slides on your StoreHippo site to promote your products and make your store more attractive. Slides are images that appear on your store's homepage and keep changing at short intervals. The slides can be updated as per the requirement of your store. For example, you can have a slide displaying your latest collection or promotional offers.
You can manage slides in Site > Slides section in StoreHippo Admin Panel.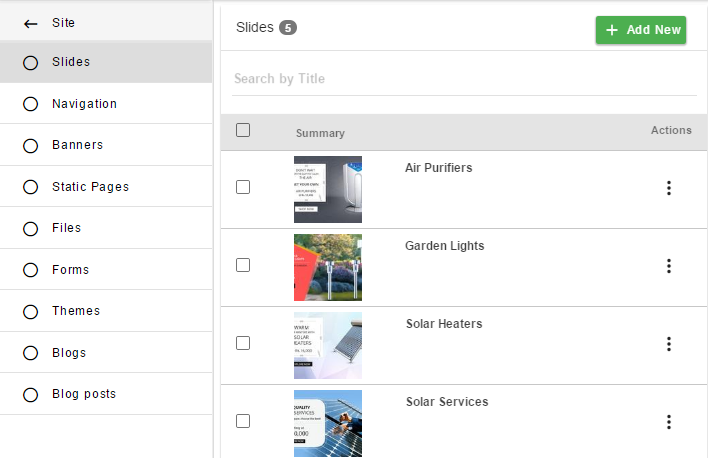 Searching slides
You can search a slide by typing its title on the Search by Title field as shown here:
Adding a slide
To add a new Slide, click on the Add New button in the top right corner. Clicking on the button will open a form with following fields:
Image
Click on Choose File to upload an image and to be shown on the slide.
Title / Subtitle
Give an appropriate Title / Subtitle if needed.
Description
Enter a description as needed.
URL
Mention the URL of the page you would want your customers to be redirected to when they click on the slide.
Tags
Input some words which can be used as tags to find a particular slide.
Publish
Select / Unselect checkbox to Show / Hide slide respectively on website.
Sort Order
Give a numerical position to slide to make it appear in that particular sequence if there are more than one slide.
Substores
Select the substores if you want this linked product to be visible only for those substores. Leave blank to show it for all substores.
This feature is available in selected plans only. Please check your
pricing plan
for this feature.

Using slides in theme
You can use ms.slides global widget to use slides in your store themes.
Editing an existing slide
You can also edit, delete or duplicate a particular slide by clicking on the relevant option under action locatedatright side of slide name. For more details, click on Common Operations.