StoreHippo allows you to upload your products in bulk in CSV format files. Once the file is imported you can check the status of the file uploaded from
imports
section in your StoreHippo dashboard.
You can check the list of all the previously uploaded sheets and their status in this section.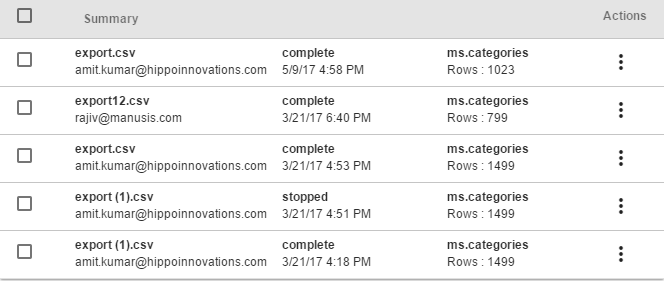 To check the complete status of any particular CSV file you can click on that file, it will open up the description table on the right side of the screen.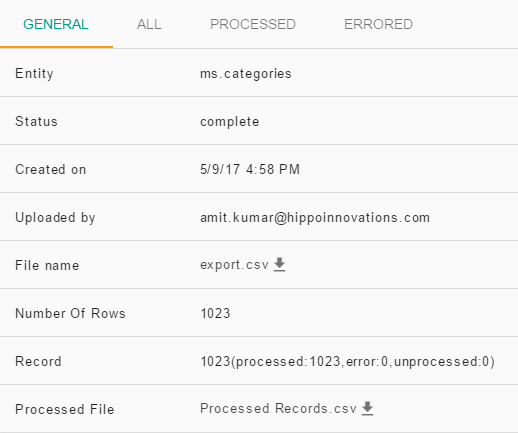 You can download the CSV file uploaded by clicking on the Processed file.
You can check the list of all processed and errored records separately by going to the respective tabs provided at the top.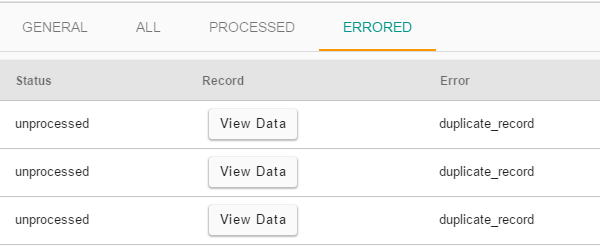 In the errored, section you can check the details of the specific error due to which the records were not processed.
Common errors that may occur in your CSV
File does not exists: This error comes if the image file name that you have given for the specific product is not correct, or is not uploaded. For more details about uploading the images you can refer preparing images for the CSV file.
Duplicate record: This error comes, if the record you are trying to upload already exists in the store data.
Compare price should be greater than price: Make sure to keep the compare price of products greater than or equal to the price of the product else system will not allow you to process the records.
Product name missing: This error may come if the product name is missing in the CSV file.
SKU missing: SKU being the mandatory field cannot be left blank.
Duplicate SKU: SKU of all the records should be unique, if the SKU of any two records is same then system will not allow the records to process.
Also, do not leave any blank rows in the CSV file else it will block the system to process further records.