Join the StoreHippo Partners Program and start earning today. Drive traffic from your website/mobile site or mobile apps to StoreHippo and earn commission on every subscription purchased.
You can register yourself for the StoreHippo Partners Program. If you are already registered, you can login to your Partner Panel.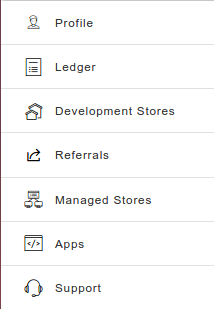 Following sections are available in a Partner Panel:
Profile
Under Profile section, you can view or manage your Partner account details. You can also find your unique referral key under Profile section.
Ledger
Under Ledger section, you can view the transaction details of the points you've earned through referrals. You can also request for the payout under the Ledger section.

Development Stores
Under Development Stores, you can develop/create new trial stores for your clients. You will also earn commission for every subscription purchase made through your developed stores.

Referrals
All your referred stores will be listed under Referrals section. You can also view the current subscription plan and its expiry date of each referred store under this section.
Managed Stores
In Managed stores section, all the developed and referred stores are listed with their approval status. The developed stores are approved by default.
In referred stores, you can request to become a store manager of an existing store through Managed Stores section. Once you have initiated the request, the store's administrator will receive your request in Store manager section in StoreHippo Admin Panel. Once the status of the request is approved by the store administrator, you will be able to login to the store using login command next to that store name under the Managed Stores section.
Apps
You can also develop apps from your Partner Panel for StoreHippo. Here is the procedure of How to create a sample StoreHippo app.