Follow the given steps to work with TIDIO chat:


To enable Tidiolivefirst you need to create your account at Tidio.
It will provide you a code snippet as shown in the screenshot.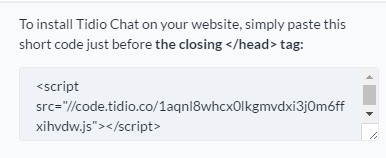 Your Tidio public key will be the code marked in green in the screenshot below.

Copy the public key and go to Advance settings-> apps in your StoreHippo dashboard.
Install the TIDIO Chat app. In the app setting, enter the public key copied above.