Interacting with your customers is an important part of running your business. Every time a new customer places an order with your store, their name and other details are added to your customer list.
You manage all of your users on the Users Page in your StoreHippo admin panel. Click on Customers in the side panel on the left to access customer section.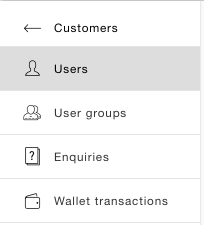 Within the customer section, there are different sub-sections related to customers.
Users
Users section contains the list of all the registered users. This section allows you to manage and add new users to your store.
User groups
User group section lets club customers in a group and you can send them attractive discount offers and e-coupons via email. You can create several groups of customers and send them relevant offers during festivals or promotional periods.
Enquiries
The Enquiries section allows you to manage the queries sent by users regarding their issues.