Linked Products allow sellers on your store to specify different pricing of the same product. All linked products are displayed on one page with all the sellers that are selling that particular product. The products are displayed with the respective price, variant, and availability. StoreHippo provides the support to add the linked products as well as to import the linked products. To import the linked products, follow the steps given below:

The three options will open up. Click on the Import option.

On choosing the

import

option, the following

dialog

box appears: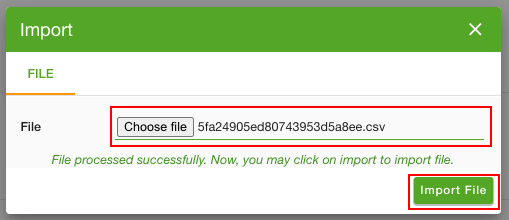 Click the Choose file button and upload the .CSV file.
After uploading the file, click the Import File button and the linked products will be imported.
Sample File
To get the sample CSV file, click the Export button and then download the CSV file for the existing linked products. Create the CSV file with the same format and import it.
Checking Status
You can check the status of the ongoing process when the import process is initiated. Click on the notification (bell) icon on the top right side of your admin panel to view the status of the import.

The status of the import process can be viewed by clicking on the button. You can find all the details of the imported files in Import logs.