The concept of fulfillment is to allow admin to fulfil the partial orders if the inventory for all of the products in any order is not available at that given point.
Fulfillment gives you finer control on the way you ship your orders to your customers. You can create fulfillments for a few or all items in an order. That way you can divide your order into one or more parts which can be shipped independently. You can also create invoices for partial fulfillments.
Enabling fulfillments
To keep things simple for merchants who always ship full orders, StoreHippo does not enable fulfillments by default. To enable the partial fulfillments functionality, go to Settings > Shipping Settings section in StoreHippo admin panel. Select the Enable Partial Fulfillment checkbox.

Fulfillments Section
When you enable the Partial Fulfillment feature in your Admin Panel, you have access to Fulfillments section under Orders.
In this section, you can view all your fulfillment. The Fulfillments View has tabs depending on their status - All, Pending, Fulfilled and Cancelled.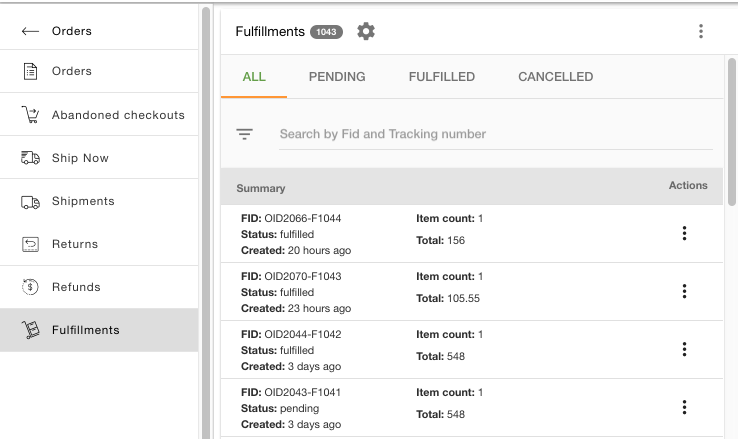 Search fulfillments
You can search for any fulfillment by the Fid (unique fulfillment id) or tracking number associated with it. You can also apply advanced filters to the records based on their, Fid, Status, Tracking Number and Tracking Status.




Export Fulfillments
You can also export the fulfillment details into a CSV file. Click on the ellipsis button and select the Export command from the drop-down to export fulfillments.


Fulfilled Count in Item Details
You would see fulfilled count for each item in an order displayed under their quantity. You can find this detail in 'Orders' section under the details of individual orders when you click on that partiular order. This value changes when you create or cancel fulfillments. This value denotes the quantity of each item for which fulfillments have been created.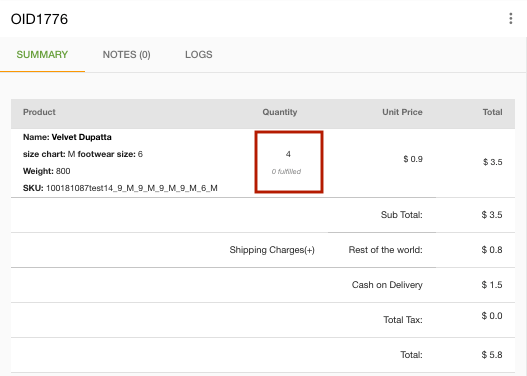 Fulfillment Status
The shipment status of the order will be replaced with its Fulfillment Status. An order's fulfillment status can assume any one of three values mentioned below depending upon the fulfilled quantity of its items.
Pending: When none of the items is fulfilled.
Partial: When some but not all items are fulfilled.
Fulfilled: When all items and their quantity of the order are fulfilled.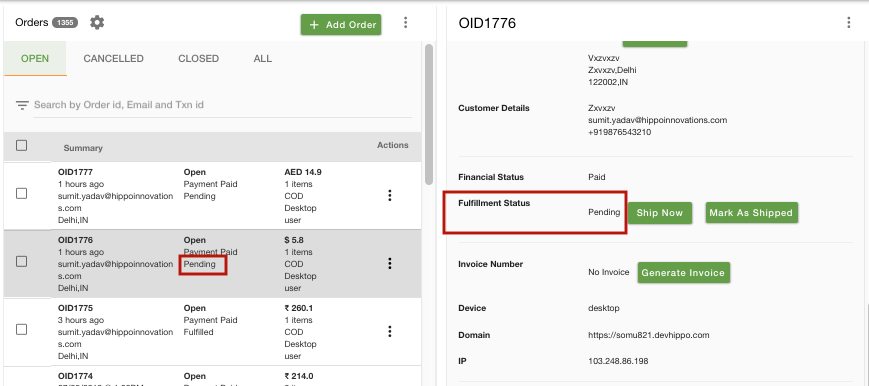 Create Fulfillment
To create fulfillment for the order, please follow these steps:
Search for the order that you want to fulfil.
Choose on

Create Fulfillment

command from the drop-down.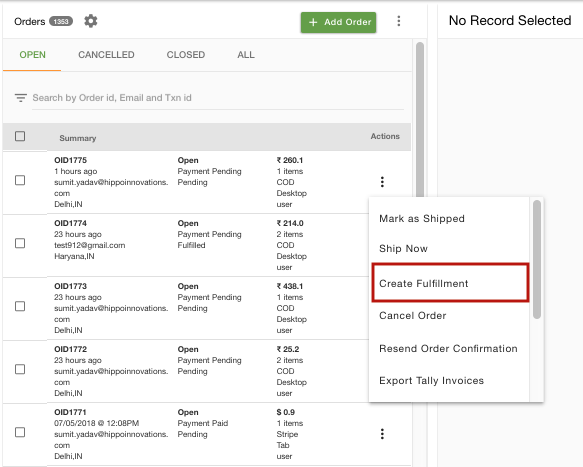 The create

fulfillment

command will open following popup: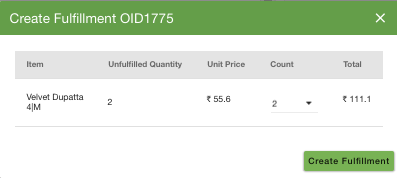 Select the items and their quantities that you want to

fulfill.
The order detail will show the details of the

fulfillments

for that order as follows: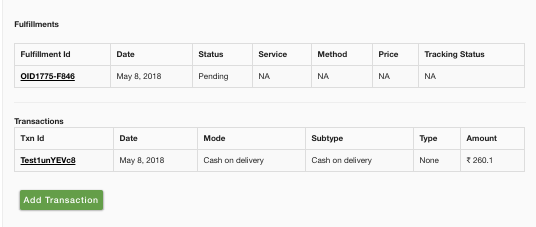 Fulfillment Details
The fulfillment of an order will be listed under this section of the Order details. When no fulfillments are created, it shows the line "No Fulfillments".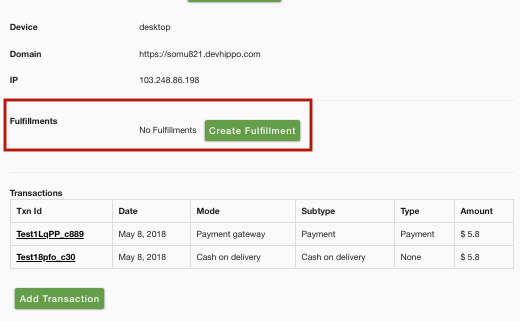 Operations on Fulfillment
By clicking on the fulfillment id you can view all the details of the fulfillment and perform various actions like Ship Now, Mark as Shipped, Mark as Delivered, etc. on it.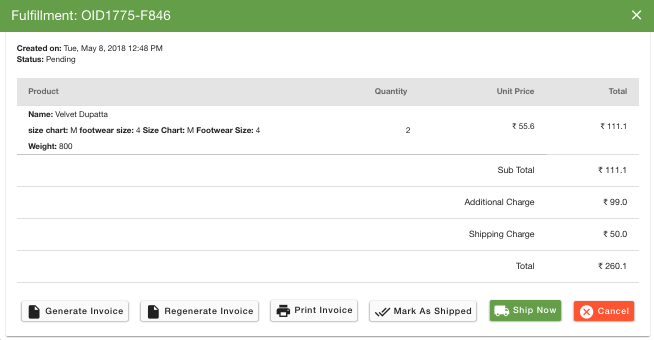 Cancel Fulfillment
Using this the seller can cancel afulfillment placed on his store.
Mark as shipped
If the fulfillment has been fulfilled manually or through some shipping provider that is not integrated with the platform, then it can be marked as shipped similar to marking an order as shipped.
Ship Now
Using this the seller can request a pickup from any of the integrated logistics providers. The process is same as shipping an order.
Shipping Label
When fulfillment is shipped using Ship Now or Mark as Shipped, shipping corresponding to the shipment is generated. It is a pdf document containing the relevant information required for logistics purposes.
Generate Invoice
You can generate the invoice for your fulfillment by clicking on this button.
Print Invoice
You can take a print of your order summary by clicking on this button.