Users section contains the list of all the users who have registered on your store. You can manage users of your store here. You can add a new user, search, import and export users.
Go to Users > Users section in StoreHippo Admin Panel to manage users.

Adding a new user
You can also add a new user and give permissions to the registered users.
Search and filter users
If there are many users in the panel and you need to filter specific users out of the list, you can easily search and filter the specific user or users to view detail, edit etc.
Search Users
You can use the quick search box to search users by First name, Last name, Email, Phone or role.

Filter Users
You can create filters using one or more fields in the filters. Filters can be accessed by click on the filter icon on the left side of the search bar.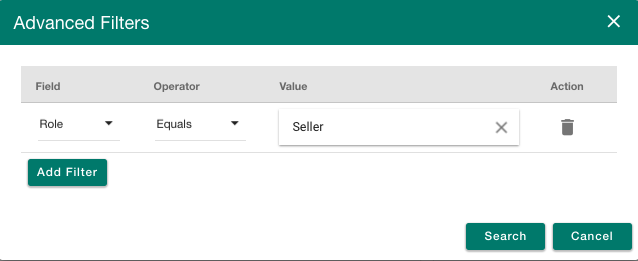 You can filter the users by the following fields:
First Name: You can search for a specific user based on its first name.
Email: You can search user for a specific email id.
Role: You can search for a user from a particular role.
Phone: Users can also be filtered out based on their phone number.
Customer Groups: You can also search for users based on customer groups to which they belong.
Import/Export Users
You can import and export users in bulk through CSV file. StoreHippo provides the option to import and export users. If you want to add users in bulk to your store, use the import option. If you wish to export your store's users and their details, use the export option.
Operations on Users
There are certain operations which you can perform on users. Click on the vertical ellipsis and choose any of the following operations.
Edit
You can edit and update a customer's details including his/her address, orders and wishlist.
Address, orders, and wishlist can be updated from the user details on the right side.
Delete
You can delete a user by choosing the delete option from the operations.
If there are many users that you don't want in your store anymore you can bulk delete those. Select the users and click on the ellipse button on the header and choose the delete option to bulk delete the users.
Duplicate
You can duplicate the users.
Example