You can export your products to a .csv file if you want to create a backup, move your existing products to a new StoreHippo store, or edit your products in bulk using a spreadsheet. After exporting and making changes to the products in your product .csv file, you import your product .csv file into your StoreHippo admin.
Go to Products > Products Section in StoreHippo Admin Panel to export your products. Click the ellipses button in the page header and choose the 'export' option. The dialogue window with the following fields will appear: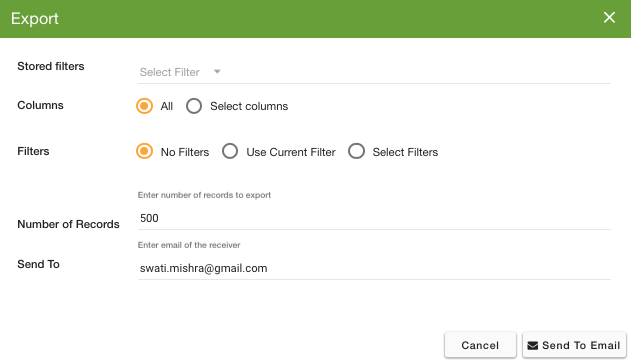 Stored Filters
Choose the filter for which you want to export the file. To add a new filter, click on Add New and enter the Name of the filter. The filter stored automatically when the file is exported and will be available in the drop-down for the later use.

Columns
You can either choose to export all fields or selected fields.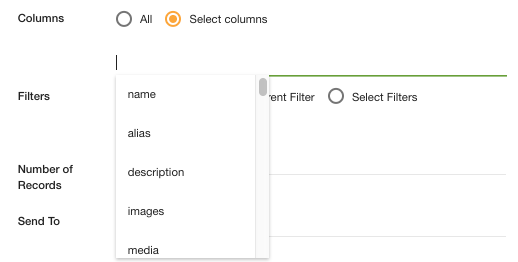 Filters
If there are some specific products that you want to export, then use the Export Filters to select products for export. There are three options:
No filters: It will be selected by default. No filters will be applied to export by default.

Use Current Filter: These are the filter(s) that are currently applied by the user. For example, click on the published tab and search for a product with product name "polo".

Now, if we click on Export button, filter for published products will be auto-populated in current filters.

Select Filters: Use select filters to choose from already existing filters. For example, you can select category field equal to a specific category. Selecting this filter will export all the products belonging to the selected category.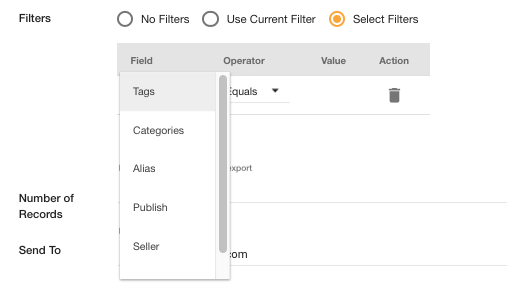 Number Of Records
You can specify the number of records to be exported. You can export a maximum of 100000 products at a time.
Send To
Provide the email id on which you want to send the downloadable link to the exported file. The email id field is prepopulated with the current logged in user id. The CSV file can be downloaded by the link provided in the mail. The link expires automatically after 7 days.
Starting Export
Click on 'Send Email' button, the export process will get initiated in the background. The export process will take from a few seconds to several minutes depending on the number of products exported. The link to the exported file will be sent to your email once the export process is complete. You can also find all the details of the previous product export files and download them from the Logs > Export logs section.
Checking Status
You can check the status of the ongoing process when the export process is initiated. Click on the notification (bell) icon on the top right side of your admin panel to view the status of export.