Products are goods or services that you and your sellers sell on your store. Your store is defined by the products that you sell; hence product management is essential for your store. Within the products panel, you can manage the entire product range in a very smooth and systematic manner.

Click on Products in the side panel on the left to access product section.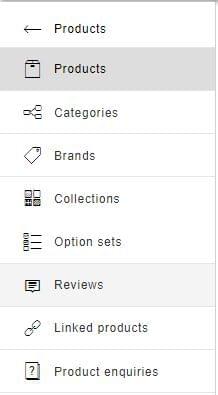 Within the product section, there are different sub-sections related to products.
Products
StoreHippo lets you
manage the products
in your admin panel with simple processes. You can add a single product manually or import products in bulk, export and perform operations on the products.
Categories
You can create
Categories
to segregate products into different segments. StoreHippo allows multi-level categories to allow hierarchical organisation of your products. For example, "Clothes" , "Clothes > Men", "Clothes > Men > Casuals" could be possible categories.
Brands
You can manage the
Brands
to which your products belong. On your storefront, you can show a brand page, and you can also have dedicated pages for each of the brands.
Collections
Collections
can be used to group products across different categories together, e.g. "Featured Products".
Option Sets
Option Sets
is used to give behaviour to product options. For example, you can define if you want the
color
option to be displayed as a drop-down, switch, radio or any other way.
Reviews
Analyze and manage reviews of your products.
Product Enquiries
Here you can manage product related enquiries made by the buyers on your online store.
Linked Products
Linked products allow sellers on your store to specify different pricing of an already existing product.